Camp Quality News
Camp Quality Fan Gets Signed Liverpool Football Shirt
Camp Quality Fan Gets Signed Liverpool Football Shirt
"It was a dream come true!" enthralled the exciting response of Camp Quality camper, Peace Chan who recently received a signed Reds shirt in recognition of her bravery.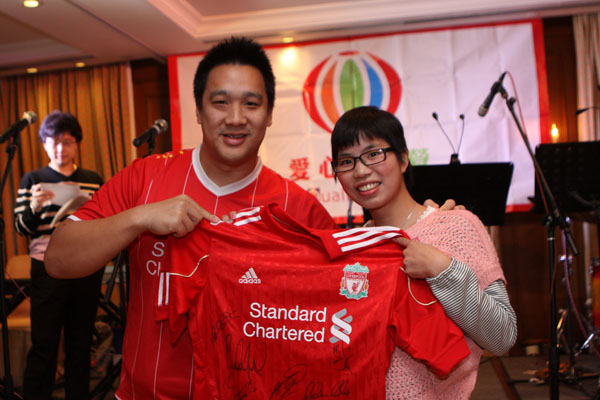 Peace Chan was diagnosed with a rare form of cancer – clear cell sarcoma – back in 2000 and has since suffered a series of setbacks in her struggle against illness.
The 24-year-old has pledged to live life to the fullest, however, and was delighted to be presented with a shirt featuring autographs by all of her heroes as well as a selection of club goodies provided by Standard Chartered in Hong Kong.
"For the first time, I felt so special. It was a dream come true!" Peace said when she was handed her exclusive gift by Dave Oh, chairman of the Hong Kong Reds, the official Liverpool Supporters' Club in the Hong Kong Expatriate Branch.
It was Dave himself who had written to LFC requesting that the club send Peace a signed shirt, having been impressed by her determination and spirit.
"To see such an optimistic girl who has endured so much pain and suffering throughout her teenage years puts things in perspective," he explained.
Peace was just 12 when her illness was confirmed. She has to cope with restricted movement following surgery to replace her femur and has experienced four relapses during the 12 years since diagnosis.
None of this has stopped the fervent Red from fulfilling several dreams, though. In 2007, many Liverpool stars took time out from participating in the Barclays Asia Trophy to meet Peace in her home country.
Her personal highlight of that visit was undoubtedly when, on behalf of the charity Camp Quality Hong Kong, she took receipt of a special signed jersey from club captain Steven Gerrard.
While that particular supporter's top was not for Peace, Last December, Peace she was given her own cherished Liverpool FC shirt at a Camp Quality Annual Appreciation dinner for the volunteers.
"The Hong Kong Reds have done so much for Peace and Camp Quality. We are really appreciative of what Dave and his team has done over the years," said Susan Wong, director of Camp Quality Hong Kong.